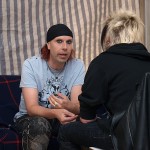 Veronika Nyssa Damoskinos did an interview with Kärtsy lately on tour in Kadaň (CZ) on the Rockfest – 24.07.2010. You can read the czech translation here and the "original" english version here:
---
In the spring you were on tour with your latest album Below Zero, how did you enjoy this tour?
It was a great tour, you know, it was a first proper European tour for like 4 – 5 years. We have done such shows here, up and there and maybe one week was so but this was like bit more shows like a 12 shows in a row. In Germany, in the Czech Republic, in France and in Finland. It was great. Most of the countries really enjoy our style of music. I'm happy to hear that people still want to be open-minded with music and enjoy this strange music.
Have you some interesting story from tour?
Not really, you know, I think the most fun this time was the gigs. We have had this party things through the years so much but this time we wanted to concentrate to good shows and enjoyed the places you know. For example we went to Paris and I haven't been in Paris for almost 10 years. I was there last time maybe in 2000 or something, and I was very happy to be in Paris. And I did very boring things like went to Louvre and this kind of stuff. I don't think that was fun. And I met some fans and we spent some time together with my hardcore fans through the years and it was nice too. And yeah, I enjoyed every moment you know. The whole tour was fun, I love being touring. I don't need any special, I just love play.
Have you visited some sights here in CZ? (historical monuments)
I know Prague very well, you know, through the years I've been spending a lot of free day offs there between the tours. So I was more like into the just like the normal stuff, you know. If I went out I just went to walk to the somewhere close to see what kind of city this is, you know, I didn't want to achieve anything real I can amuse like special things you know. I just enjoyed. Ok in Prague I went to this old market square in the center of Prague and I went to this big tower and that was nice but… apart from that I just enjoyed it. (laughing)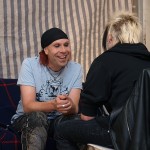 What do you think about Czech audience?
Czech audience is very good. It's one of the best in Germany and most liveliest… the more north you go the more shy people come, you know. In France and Czech I think we had most liveliest audience this time and German and Finnish audience is good as well but they're more shy.
I have to ask: Do you like Czech beer?
Yeah a bit, but I'm not, to be honest, a part of a normal Finnish guy – I'm not beer-drinker. I prefer Absinth or Becherovka.
Some bands have a special ritual when they are on stage, do you have some too?
I think our music is quiet special so and I think it's enough. We have some kind of theatrical, kind of theatre kind of stuff sometimes on stage – some people say that it's good and that we are a kind of metal band which has more theater on stage then usually people. I don't know, maybe it comes naturally out, but maybe we're just special in our hearts you know. (laughing)
Do you prefer to play in small clubs with a family atmosphere or on a huge stage?
I like big stage myself. But small clubs are of course nice, but the big stage has more space and I like space.
Space avenue…
Yeah, exactly!
You have your own solo project, the release of your first solo album will be in August.
Yeah, next month.
What was the main reason to do it?
Last years Waltari is heading back more into metal stuff you know and we enjoyed to play much harder and harder stuff now which is very cool but my music taste is very variable and I now want to do different kind of style… think so… I decided to focus more in this two things. In Waltari I do more harder and metal stuff and in my solo project I do something more melodic and sometimes even more weird stuff maybe. But Waltari is a rock band and in my solo project I want to do everything else than the normal rock stuff. Okay the first album in fact will be very normal guitar album but it's about more like pop melodic songs which nowadays are too pop for Waltari newer style. So I decided to concentrate this time more melodic stuff with my solo stuff. But with my solo stuff I want to do things which I don't do in Waltari. For example nowadays I enjoy a lot of bands, this modern rock bands from States, this very popular rock bands like 30 Seconds To Mars or Paramore or stuff like this and I sure wouldn't do anything like that with Waltari so I decided to try that kind of music with my solo stuff. So it's more commercial and it's not at all crossover.
Where do you look for inspiration for your songs? Do you find it in your life experience?
Yes, of course. The life experience especially when I make lyrics. But music I always I'm influenced by all the new music which I hear from the radio or from TV or stuff like this. I have my old classic favorites but musically I still want to be influenced from the new music. Because I think that keeps it more interesting. And that keeps me more fresh, more young you know. I don't want to stuck in the old habits. I hate rock musicians who are narrow-minded. I think they're not real rock musicians to my taste. I think the real rock musician has to be ready to re-challenge himself every year musically.
Where do you see the main difference between your own project and Waltari?
Waltari is nowadays metal, industrial and maybe like some kind of hard music anyway, so I decided that my solo project can't be hard music, can't… no metal and no industrial. It has to be different from what Waltari's doing. Otherwise there's no sense. I want to feed totally different audience with my solo project than with Waltari.
You already had a gig here by yourself, right?
Yeah, yeah in January already, it was kind of a warm-up show for Czech people.
What did people say to your project, did they like it?
It was very small club and it was kind of special show but the people who went there enjoyed it. They didn't feel it so different from what I do in Waltari but I personally feel it very different because it's much more melodical, much more popier, you know, Waltari is pretty hard music and even dark nowadays, so with my solo stuff I do much more happier.. not happier maybe but more like party kind of stuff.
And what about the difference in lyrics?
In my own project the lyrics are more personal. In Waltari I have kind of duty or responsibility which I think… Waltari has kind of message, musical message and the attitude message as well and in Waltari I want to stick to this kind of basic message what this band has. And with my solo project I sing more about my personal life and about my feelings as a private person and also I got more into the maybe the mind of normal person you know. Waltari is more freaky, solo project is more like anybody can get some message from these songs. It's maybe more understandable. I sing about relationships and this normal stuff you know. And what everybody experience is.
What is your vision of the Waltari's future?
The next year will be pretty interesting year for Waltari because we are turning to 25 years. We have 25th anniversary. I can't believe that… but that's what they tell me. (laughing) And we are planning some special stuff for next year. At least it's Waltari's turn now to go in the studio next winter. We're gonna record some special program for our 25th year.
Does it mean we can look forward to new album?
Yeah, kind of special album for 25 years. Yes.
The classical last question: You and your band are very popular in the Czech Republic. Is there something you would like to say to Czech fans?
Yes! Stay open-minded and don't give up. Rock'n'roll is not dead. Rock music is not dead. It's alive and doing well.